Youth Program
The AFGOLF youth program is a very professional way for young players to make a step into better performance in Belgium but also on the international scene. It's the program between the lesson the players receive from the homeclub and the national team being supervised by the Royal Belgian Golf Federation. The program prepares its best players in various domains of the game such as mental, physical, technical.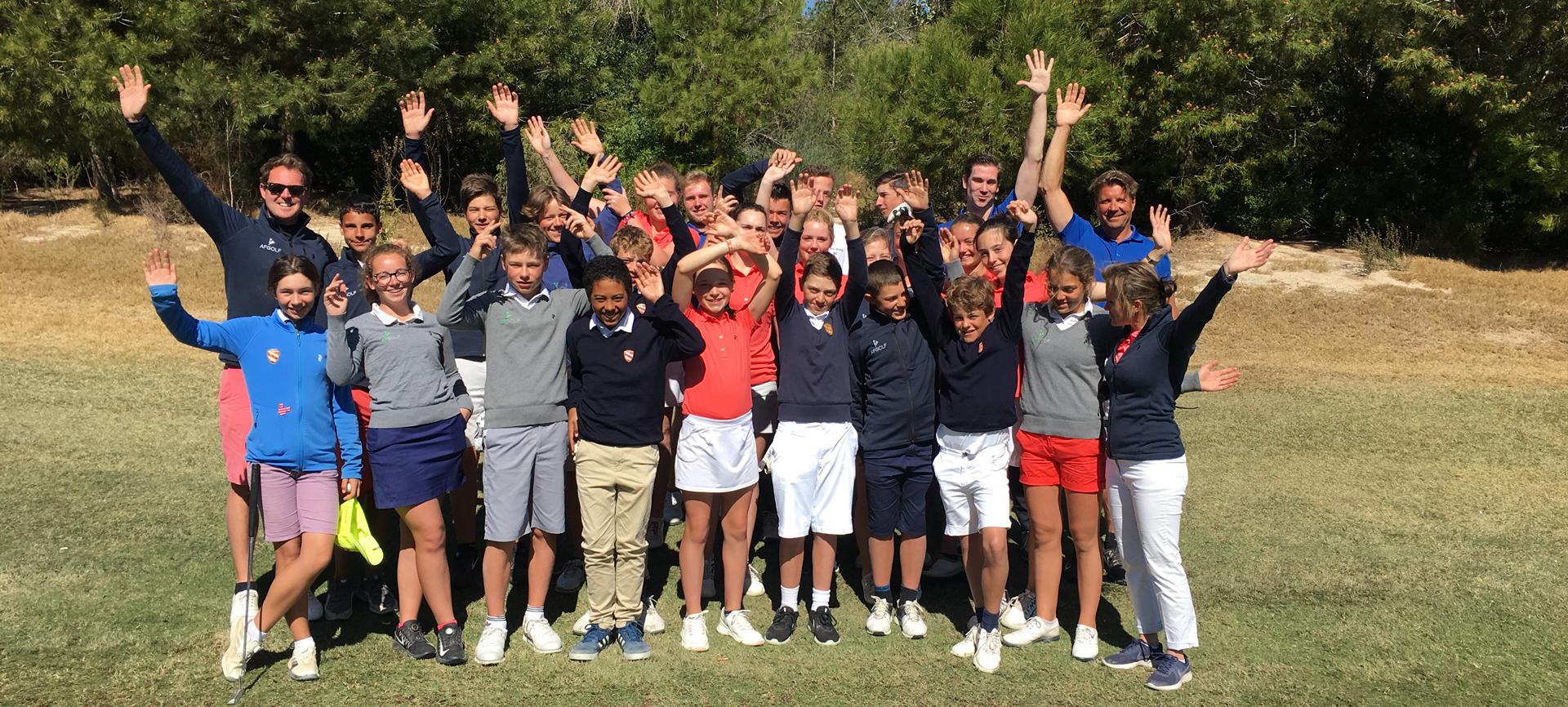 Groups
The AFGOLF groups are divided in 3 smaller groups based on the age of the players. That way, we can propose adequate trainings and work very precisely depending on the level of the players. We can adapt the physical and mental work that will meet their goals and motivation.
 Birdie group (U14)
 Eagle group (U16 & U18)
 Albatros group (19-23years old)
The AFGOLF coaching team really promotes new ways of training in groups and offers a wide range of exercises in order to give the best experience to the young players. The 3 groups also train together to reinforce the team spirit and allow the players to share their different experience to one and other.
Listing of the players selected for the 2020-2021 season :
BIRDIE
U14
BECHT Sophia
DUQUAINE Hugo
ISSERENTANT Léopold 
LAUWERS Edgar
MAHY Joackym
MAHY Nino
MARTIN Laure
SEMMELING Margaux
SMEETS Juliette
THEYS Adrien
VANDENBEYLAARDT Pol
WOUTERS Amaury
EAGLE
U16-U18
BECHT Rebecca
BOUCKAERT Antoine
CERFONT Clara
DE BOCK Savannah
DEFLEUR Emma
DEMOULIN Marie
DENIS Diane
DEPROUW Jules
FETTWEIS Paul-Guillaume
NOËL Esteban
NORMAND Nicolas
PEZZOT Noah
SHIKU Shanèle
THEYS Romain
VAN GEFFEL Eloy
WATHELET Kolya
ALBATROS
19 – 23 ANS
APPART Margaux
BECHT Lucas
DE WOUTERS Jean
DUMONT DE CHASSARD Adrien
GENDEBIEN Clémence
LOUIS Clarisse
MEYER DE BECO James
ROELAND Charles
TADIOTTO Giovanni
VANHAELST Martin
VIKKULA Chiara
Program
Each group receives a specific trainings and tournaments program. The program will be supervised by the AFGOLF coaching team:
The program includes:
Training sessions in Belgium
Training camps abroad
Practice round and presence on various tournaments selected by AFGOLF
Presence of the coaching team during international tournaments
Scholarships to participate in international tournaments
Physical training, mental coaching, nutrition advices…
To consult Training and tournaments calendar for 2020-2021 season, please refer to our FR page of the site.
Information meeting
Once a year, right after the announcement of the selected players, a meeting is organised in order to present the schedule of the following year. Players and coaches gather to introduce themselves and already create a team spirit that will be very precious over the year of training and competition.
To consult the youth program, please refer to our FR page of the site.
Young people abroad
Some of our elite players from the Albatros group went to study abroad (USA, Scotland). They follow a university cursus and are part of the university golf team.
Find out more about them and their University here!
AFGOLF tests
The AFGOLF tests consist of a system of objective evaluation of a player's performance.
See all tests