Test and Handicap
The game of golf is a very unique sport where people with different levels can compete and play together.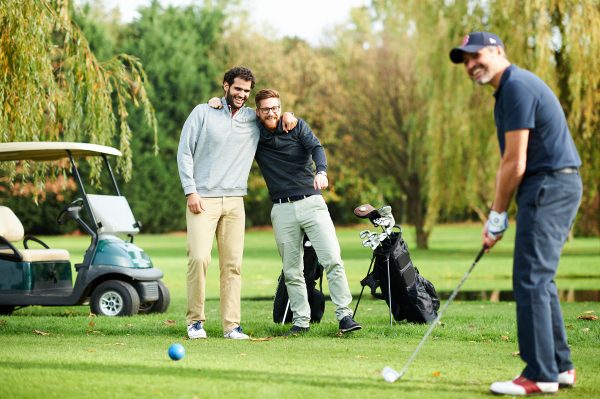 The "Passport" access to the course.. Everyone passes it!
The word "passport" "access" can be scary but it is a formality for players that want to get on the golf course. It attests that the player has the minimum skills to get on the golf course and will be able to enjoy himself and avoid dangerous situations and slow play.
"Just like scuba diving, you need a permit to get on the golf course"
How is the test "passport"?
1 week, 1 month, 1 year, everybody learns at a various speed. New golfers are allowed to take their time to take on this test. You golf coach will work with you to prepare the test and work on the different aspect of your game.
Passport: 2 steps
In order to play, the knowledge of the rules is very important. That way you will be able to enjoy your round with friends, family even more.
The test consists of an open-book multiple choice quiz. You have 30 questions. The passing score is 24 out of 30.
Test your knowledge
During the entire time of your starting package, your pro/coach will evaluate your skills and make you become a better golf player. He will attest that you have the required level to take the test. The test will go over the 3 main areas of the game: long game, short game and on course situation.
For the long game, you will need to hit 10 balls. 6 of them will need to cover the minimum distance regarding the age and gender of the player.
For the short game, the player will hit 25 balls from various areas and distances. The ball will need to rest within a reasonable distance from the hole. The test is passed as soon as the player gets 14 balls inside that zone.
The "on course" test is a 9 holes round in stableford format. The player will be evaluated on his game, his behaviour and the knowledge of the rules of the game.
How the get your "passport"
Handicap
The handicap is stating your level of play.
After the player gets his passport, the club will give him a "club handicap" between 37 and 54. This handicap will allow you to play on various golf courses in Belgium and participate in the club competition called "Rabbits" (for new golfers).
When you handicap gets to 36 (Official EGA handicap). You are good to discover every golf courses around Belgium and the world.
The lower the handicap, the better the player is!! Your time to go out there and improve yours!!