How much is it ?
Every year, more than 9.900 people pick up the game of golf!
Golf clubs offers a variety of membership packages that will suit every budget.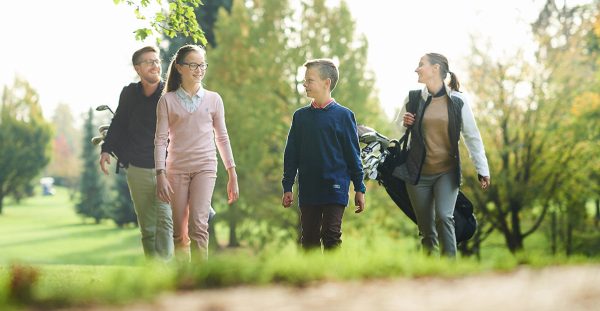 Start off with an initiation
The majority of the golf clubs propose free initiations (sometimes just a little fee for the material and balls).
You can participate to these initiations by yourself, with relatives, friends… The initiation will give you a great insight to the game of golf and will surely get your curiosity to discover even more the game.
Book my initiation
Your lessons
After your initiation and having made up your mind to start the game, you will need to acquire a minimum level in order to get out on the course and be able to enjoy the game to the fullest. You will take on a simple "test" to get the right to go on the golf course with other people. It's usually called the course "passport".
Therefore, the clubs propose a "starter's pack" with various formulas (individual, groups, training camps). These lessons don't require you to be already a member of the club.
"It's a great opportunity to spend quality time with my family! Learning the game all together"
The starter's package differs from club to club. "Starter's packs" and group lessons are the most economic ways to pick up the game and enjoy yourself.
Become a member of a club
Once you have your passport for the golf course. You are more likely willing to become a member of the club and enjoy fully the golf course. There again, you have a large choice depending on your budget and the facilities the clubs are offering.
"Golf clubs are a little bit like holidays or cars, you can find yours depending the price you are willing to spend"
You already have some "member's formulas" starting as low as 150€ per year!
As a club member, you will be able to enjoy the golf course as often as you'd like. When you desire to go out and discover another golf course, you simply need to book a tee time and pay your greenfee at the reception desk and off you go play a quick 18 holes!
You already have greenfees, starting as low as 25€ for 9 holes.
Equipment
Unfortunately, we can't play without our golf clubs, however, during your starter's package, the equipment will be provided for you to learn the game.
When you have your access to the golf course, we suggest you start with a half set of clubs (Sw, 9iron, 7iron, 5iron, 3 wood and the putter), some balls and of course tees. Buy a comfortable pair of shoes and a glove. With this starter's equipment, you are ready to rock the golf course and enjoy yourself!
The second hand market has plenty to offer as well if you don't want to invest too much at the beginning.
Usually, you can be fully equipped for 500€.
The game of golf is a lifetime sports! It requires a financial investment at the beginning but will definitely be worth the time and joy you will get from playing the game